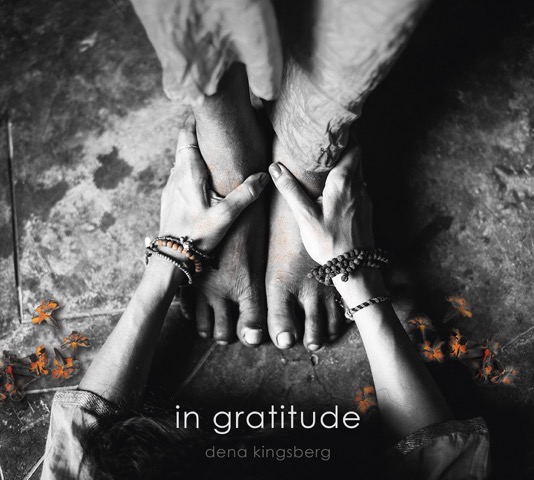 music for  yoga, meditation, grieving, healing, living and dying
this CD is available to download or in hard copy. Also available in packs of ten for selling on at your studio or shop. Please contact centreofbalance@hotmail.com for hard copies.
The work is a collaboration, born from profound friendship and the sentiment of devotion inspired through mantra and music.
It began as a simple sharing among friends. A solitary voice found company in harmony and was then enhanced by the rich vibration of cello and the ethereal melodies of flute.

This spacious soundscape offers a back drop for meditation, yoga, resting, grieving, healing, rejoicing. living and dying.

Dena Kingsberg is a devoted student and practitioner of traditional Ashtanga Yoga. This calling has inspired her to travel back and forth to India for over 30 years. Although not a classical scholar of Sanskrit, these mantras and devotional chants have become an integrated part of her practice and teaching, opening the door to healing, devotion and heightened states of reality.

Loani McRae is a vocal performer, choir master, and music teacher who is passionate about the way music and especially singing brings people together. Loani and Dena grew up in Canberra together and now both live in Northern NSW. Loani is responsible for the angelic harmonies that add poetry to sound.

Tara-Lee Byrne Is an acclaimed Irish cellist. She met Dena in India whist studying yoga then continued on to Australia where she fell in love and plants seeds for her future. Tara-Lee adds the rich tones of cello to voice thus deepening ones heart connection to the ancient melodies.

Avishai Barnatan is a musician, performer, and sound healer. Whilst he started out as the sound engineer and producer of
IN GRATITUDE his contribution expanded to include the majestic and stirring passages of flute, deep vocal harmonies and resonant bells.